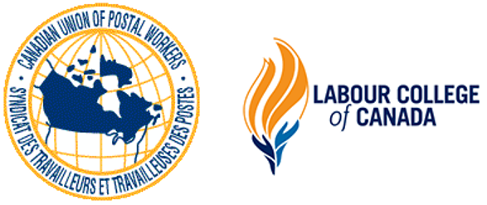 Friday September 28 2018
Please note that the deadline for applications to Labour College is October 25, 2018
Are you committed to building stronger and broader labour and social justice movements?
Do you want a better understanding of the forces that shape workers' lives? Do you want to be part of an activist network, and build up your research and strategic planning skills? Are you an activist with a demonstrated commitment to playing a leadership role in your union and building the labour movement for the future?
If so, then the new Labour College of Canada Certificate Program is for you!
Workers from unions across the country are eligible to attend this post-secondary program. It is offered in English.  (Quebec members attend le Collège FTQ-Fonds).
The program aims to:
build leadership skills and provide leadership tools
foster empowerment, self-confidence and new networks of labour leaders
strengthen critical thinking skills
examine working class struggles and human rights issues that affect all workers
create change.
How does it work?
The program is divided into three sessions that can be taken in any order, in multiple locations. Each session includes an on-line and in-person component. All sessions will require preparation and reading, and some work following each session related to an independent project (LCC Project)
Course Schedule
To complete the program, students must successfully complete the online orientation, the online and in-class courses for all three sessions, and the independent work between sessions, associated with the LCC Project.
1st Session
ONLINE: December 2018/January 2019
IN-CLASS: February, 3-8 2019 (BC)
2nd Session
ONLINE: May/June 2019*
IN-CLASS: July 2019 (ON)
3rd Session
ONLINE: December 2019/January 2020*
IN-CLASS: February 2020 (BC)
*Subject to change  
LCC Project
Independent work (for a total of 40 hours or more) will be required following each session.  Some of this work will require online assignments or presentations.
A note about the IN-CLASS sessions
In-class (week-long) sessions take place during CLC week-long schools in BC and/or Ontario.
Courses start at noon on the Sunday and end by 3 pm on the Friday.
Areas of study
Areas of study include:
Political Economy
Theory and Practice of Unions
Project Planning and Research Skills
Organizing and Education for Change
Communications
Labour Leadership
Globalization, Trade and Labour Law, and more.
Who should apply and costs?
CUPW members who:
Have taken union courses
Are active in the union
Are active in social and economic justice issues in their community
Members of equity-seeking groups are encouraged to apply
As outlined in section 11.04 of the constitution (Joe Davidson Education Fund), CUPW covers the costs of one participant and a second applicant will also be funded by CUPW.
Apply by October 25
Interested members should apply by submitting the 12-page application to the Labour College registrar.
For more information
For more information on the program, course dates and locations, go to this link:  http://canadianlabour.ca/labour-education/labour-college-canada
For an online application form:  https://clcctc.checkbox.ca/Survey.aspx?s=67d9c02219af4d30979a9a4ba8fe3d92
In solidarity,
Dave Bleakney
2nd National Vice-President