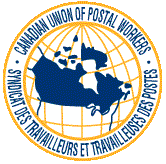 Collective Agreements
A collective agreement is a written legal contract that covers workers grouped together into a bargaining unit. The contract is reached through collective bargaining between the union and the employer.
Collective agreements typically include wages and benefits. They also contain job descriptions and classifications as well as a dispute resolution process (usually a grievance and arbitration procedure).
Having a collective agreement in place goes a long way to protect workers from unfair treatment. It gives us a say in the workplace, allows us to improve our working conditions, and provides us with a fair way of raising and resolving workplace issues.
All CUPW contracts guarantee specific wage entitlements, benefits and working conditions. They provide a clear set of rules that apply to everyone. These rules prevent managers from being arbitrary or discriminatory.
CUPW negotiates the collective agreements for the following groups of workers: