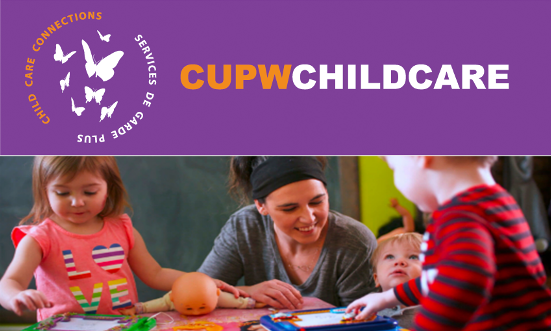 Friday April 20 2018

Take five and watch "In Good Hands" to learn about the child care project you and members of your local have access to in Fredericton!

CUPW believes child care is a collective responsibility and an important equity issue. It's not fair to expect parents to have to deal with finding and paying for high-quality early childhood care and education on their own.
When families have high-quality child care that meets their needs, they can go to work with peace of mind knowing they are providing their children with a good start. Women in particular need good, dependable child care so that they can enter into and remain in the workforce, and participate fully in family life and in their union.
Knowing that you're part of a union that cares about family life is really important because as much as you try to separate work life and family life – they overlap.
— Christie, Parent

The CUPW Child Care Fund has been supporting our members in Fredericton to access high quality child care at The Preschool Centre since 2007. CUPW members will be given priority on the centres waiting list and a small fee subsidy to help with the cost.

To learn more about your child care project and how to apply contact your local executive or go to the CUPW National website http://cupw.ca/child-care to download a copy of the child care brochure related to your project.

In Solidarity,
Dave Bleakney
2nd National Vice-President