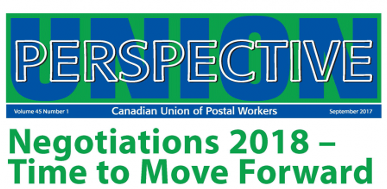 Thursday May 3 2018
After several months of mediation and discussions with Canada Post, it is time to take our negotiations to the next level. We have focused on our needs and concerns and now is the time to focus on solutions that will address our demands. The mediator from the Federal Mediation and Conciliation Services will continue to work with the parties.
SO FAR
The parties have discussed most of our demands during the mediation process. We have not reached any agreements so far but we are continuing to push hard to achieve our demands.
INTENSIVE NEGOTIATIONS
The parties have now agreed to move to an offsite location to allow for more intensive negotiations. The negotiating committee will move to this location on June 4, 2018. An offsite location will make it possible for the parties to meet several times per day.
IN THE MEANTIME…
The three sub-committees: Operations, Delivery and Finance/Benefits, will continue to meet with Canada Post to discuss the issues. We are working on building momentum towards achieving a negotiated collective agreement.
OBJECTIVE
Our objective is to negotiate a good collective agreement for our members in the coming weeks. Our goal is to improve working conditions, wages and benefits for all CUPW members.
Now more than ever, it is important for everyone to get more involved in our negotiations. Work floor activities that are focused on supporting our demands will send a strong message!
Stay informed, participate in union activities and support your negotiations!
Solidarity!
Sylvain Lapointe
Chief Negotiator, Urban Unit
Nancy Beauchamp
Chief Negotiator, RSMC Bargaining Unit