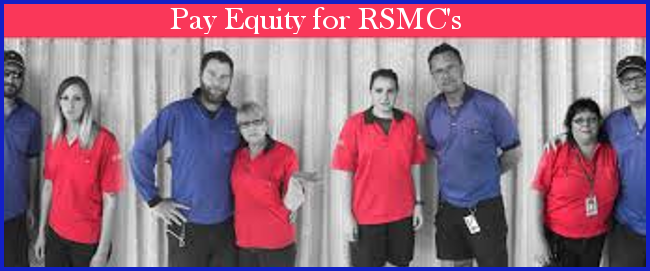 Thursday December 20 2018
This is it, as of January 1st, RSMCs will finally see the result of the pay equity process on their pay stub for pay period #2 (December 30, 2018 to January 12, 2019), which you will receive on January 24, 2019. Your activity values will be increased to reflect the salary rate of letter carriers. You will also be entitled to new paid leaves, will have access faster to an increased amount of annual leave, and will be eligible to pre-retirement leave and other benefits described below in this bulletin.
Salary
Arbitrator Flynn stated that a "derived hourly rate" does actually exist for RSMCs. This "derived hourly rate", as she called it, stems from the activity values in the collective agreement and the related time values. Therefore, for each hour specified in the schedule A, the salary of members at the top of the wage scales will increase as follows:
from $20.03 to $26.60 per hour for Zone 1;
from $21.81 to $26.60 per hour for Zone 2;
from $22.81 to $26.60 per hour for Zone 3.
Base salary of Permanent Relief Employees (PRE)
The PRE's base salary will increase from $60.00 to $90.00 per day when they are not covering a route.
Isolated Posts
If you work in a location designated as an isolated post in Appendix "H" of the Urban Collective Agreement, you will also be entitled to an increase of your "derived hourly wage". There are sixteen (16) such locations, and three (3) different rates apply or not, depending on the work location and on whether or not you have any dependent. The amounts vary from $0.67 to $9.14 per hour in addition to the increase specified in the previous paragraph.
New paid leaves
RSMCs and permanent relief employees are now entitled to the same paid leaves as urban members:
Marriage Leave (19.01): this leave will now be paid;
Birth Leave: a maximum of two (2) days if your partner gives birth to a child or for the adoption of a child;
Leave for other reasons (19.03): this leave will now be paid;
Court Leave (19.04): this leave will apply to different situations;
Personnel Selection Leave, Examination Leave and Career and Development Leave: these leaves can now be taken and will be paid under certain circumstances.
Annual leave and pre-retirement leave
You probably have already signed the calendars (there are two separate calendars) for those leaves based on the new terms. It is important to note that you are entitled to the number of weeks of annual leave for the year during which you reach the number of required years of continuous employment.
Annual leave
Three (3) weeks / less than seven (7) years of continuous employment;
Four (4) weeks / seven (7) years of continuous employment;
Five (5) weeks / fourteen (14) years of continuous employment;
Six (6) weeks / twenty-one (21) years of continuous employment;
Seven (7) weeks / twenty-eight (28) years of continuous employment.
Pre-retirement leave
Members are entitled to one week of pre-retirement leave per year up to a maximum of six (6) weeks. Only the fifth (5) and sixth (6) weeks of pre-retirement leave can be taken during the same year. As with annual leave, you are entitled to this leave in the year during which you reach the required age as well as the required number of years of continuous employment.
You must be fifty (50) years old with twenty (20) years of continuous employment. No RSMC will be entitled to this leave before 2024, since our continuous service started in 2004.
You must be sixty (60) years old and have at least five (5) years of continuous employment.
Benefits
Disability Insurance
Administered under the same plan as urban members.
Life Insurance and Death Benefit
If you pass away, an amount equivalent to twice (2 X) your annual salary will be paid to your estate.  Beginning at age 65, this amount will be reduced by 10% per year.
British-Colombia Provincial Medical Insurance Plan
The Corporation will pay seventy percent (70%) of the province medical insurance premiums.
Post-retirement Benefits
You could be eligible to post-retirement benefits in the case of a medical retirement, but not in the case of a regular retirement, because arbitrator Flynn ruled that the 15-year eligibility period starts on January 1st, 2016.
Glove Allowance
You should have already received a maximum of $60 ($20 per year) for the glove allowance on your pay cheque for pay period #24 (November 29, 2018). The next payment will be made on October 1st, 2019.
It was about time!
Pay equity is a right that has been enshrined in the Canadian Charter of Right and Freedoms for a long time. Canada Post abided by it only because it was forced to do so. Until the very end, the Corporation asserted that there were no equity issue between the RSMCs and the other male-predominant groups. Once more, thanks to everyone's determination and extensive experience of the work place, we were able to get justice for RSMCs.
The struggle continues toward equality!
Members of the Pay Equity Implementation Committee
Solidarity!
Pay Equity Committee Member
Pay Equity Committee Member