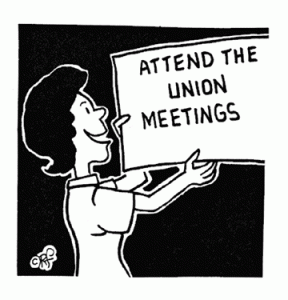 GENERAL MEETING
THURSDAY SEPTEMBER 28,2017
7:30 PM
MAPLE RIDGE SENIOR CENTER
12150 224 STREET
MAPLE RIDGE
AGENDA:
-Regular Business of the Local
-Nominations for the positions of EXECUTIVE CHIEF STEWARD
Written nominations and acceptances will be accepted at the local office until 3:00pm on SEPTEMBER 28, 2017. In addition, nominations from the floor will be accepted at the general meeting on Sept 28, 2017.
To be eligible, nominees must be a member in good standing and have attended 3 general meetings in the past 12 months.
DUTIES INCLUDE:
-BE AN ELECTED OFFICER OF THE LOCAL
-BE IN CHARGE OF ALL CHIEF SHOP STEWARDS AND SHOP STEWARDS OF THE LOCAL
-BE RESPONSIBLE FOR THE CORDINATION AND ORGANIZATION OF THE EFFORTS AND ACTIONS OF THE CHIEF SHOP STEWARDS AND SHOP STEWARDS OF THE LOCAL
-ASSIST THE VICE PRESIDENT IN THE RESPONSIBILITY FOR THE HEALTH AND SAFTEY IN THE LOCAL
-ASSIST THE PRESIDENT IN THE PREPARING STRIKE STRUCTURES AND INFORMATION PICKETS
-BE A MEMBER OF THE ORGANIZATION COMMITTEE AND DIRECT THEIR WORK
-CONDUCT SHOP STEWARD MEETINGS WITH THE ASSISTANCE OF OTHER EXECUTIVE MEMBERS
– INFORMATION ON UPCOMING REFERENDUM VOTE AND PROGRAMS OF DEMANDS
-Door Prize