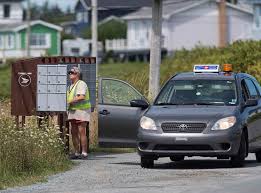 Tuesday April 17 2018
Implementation
At the April 10, 2018 RSMC National Consultation the Corporation indicated that, commencing April 23, 2018, it is their intent to update the delivery process for parcels. This change affects more than 6,000 routes.
The change in the delivery process treats all parcels as "to the door" or Personal Contact Items (PCI), which impacts the delivery method for Lock Box Assembly (LBA)/ Apartments, Rural Mailbox (RMB) and Kiosks. The Corporation stated it is anticipating approximately two million more deliveries per year attempted to the door by RSMC.
Rights and Benefits
In response to this change in the delivery process, an interim payment for the anticipated increase in PCI's attempted to the door will be on the May 17, 2018 pay (PP10). This increase to PCI payment is based on the number of affected Points of Call (POC) on your route and the date of your last annual inspection. This will determine the amount of your increase until your next annual inspection establishes your PCI pay based on your log sheets.
Things to keep in mind
– The annual inspection will level out the estimated PCI's and the actual PCI's delivered.
– The log sheets are critical in establishing the correct count.
– The Corporation agreed that if your actual PCI count is less than the estimate they will not recover any pay. If your actual number of PCIs is higher than the estimated number, the Corporation will adjust your PCI count and pay it retroactively.
We also discussed a process that will be used to review any case where the workload has been severely underestimated in relation to the PCI increase.
So, it is important that you record your PCI counts on your log sheets to show the increased workload.
Health and Safety
– Health and Safety continues to be our priority. Use extra caution when entering unfamiliar properties and report any health and safety concerns immediately.
– RSMCs may need to make an extra trip to level their load – the vehicle expense and the drive time will be paid.
– RSMCs impacted by this change may work increased hours. Members in that situation need to record this change in hours on a daily basis to support a possible route adjustment. Records such as this will be helpful to your local union in the event a dispute arises.
– RSMCs that require an accommodation due to the implementation of this new delivery process should speak to their CUPW local union representative for guidance.
Should you encounter any problems in dealing with CPC, contact your CUPW local office for assistance in finding solutions or determining whether a grievance is needed.
In Solidarity,
Peter Denley
National Grievance Officer