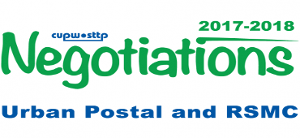 Tuesday November 20 2018
In an effort to achieve negotiated collective agreements and end the strike activities, the Minister of Labour, Ms Patty Hajdu has given mediator Mr. Morton Mitchnick another mandate.
This government has said they agree that a negotiated settlement is the best resolution in the long run, they believe in free collective bargaining and agreed to renew the mandate of the mediator Morton Mitchnick for a short period of time. CUPW believes that the threat of back-to-work legislation will undermine the chances of negotiated settlements. We'll do our best to reach a negotiated settlement as quickly as possible with the assistance of the mediator. We will see shortly if this was a real attempt to achieve negotiated settlements.
Union's Position
We have been consistent in our approach and our communications that this round of bargaining is about correcting key issues that impact all postal workers. These issues are health and safety, staffing, over-burdening, job security, a reduction in precarious employment, pay for all hours worked and a better work-life balance.
Your Solidarity Is Key
Your amazing solidarity, determination and perseverance is the reason that we are in a situation where negotiated collective agreements are still within our reach. The strategy of using rotating strikes and an overtime ban has been very effective and Canada Post is feeling the pressure. We never wanted to strike but Canada Post refused to negotiate.
Communications
Stay informed, watch your bulletin boards, email, follow CUPW on twitter at @cupw, at https://www.facebook.com/cupwsttp/ and sign up for CUPW's e-Digest at http://www.cupw.ca/en/cupw-edigest.​
We Will Not Back Down!