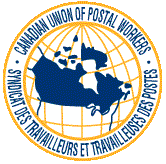 Friday July 5 2019
CUPW is currently accepting applications for the position of External Organizer. We will be hiring organizers across the country to help bring more workers into our union and to share in the benefits that unionized workers enjoy.
The industry that postal workers inhabit is constantly changing, and as more couriers, warehouse workers, cleaners, and others sign union cards, CUPW has changed too. We understand that to meet the challenges we face as a union, it's critical that we improve the rights and working conditions of every worker in our sector.
As a CUPW External Organizer, you would work with the CUPW organizing department and be responsible for all phases of external organizing drives, as required. This is not a full-time position within the union. You would be booked off for periods of time to work on particular campaigns.
Position Details
Work Location: Varies depending on the campaign
Pay: Union Representative rate.
Responsibilities
Work with CUPW locals and regions in the development and coordination of organizing campaigns as determined by the National Executive Board
Identify, assess, and recommend organizing targets, in collaboration with the CUPW organizing department
Worksite mapping and contact list building
Maintain database of workers
Develop organizing campaign plans – including objectives and timelines
Conduct outreach to workers – identify and train workplace leaders
Prepare regular reports on campaigns.
Qualifications
Must be a CUPW member in good standing.
Ability to travel and work long, irregular hours – including weekends, early mornings, evenings, and late nights as needed.
Strong organization and communication skills
Ability to work with others in a racially and culturally diverse membership.
Ability to work under pressure and with minimal supervision.
Ability to multi-task, set priorities, and meet deadlines.
Demonstrated history of union and community organizing experience.
Facilitation and training experience considered an asset.
Basic computer skills, including MS Word and MS Excel.
 Applications are encouraged from members of equity seeking groups.
Job Contact Information
To apply for this position,please forward the attached application form by July 21, 2019to:
Jean-Philippe Grenier
3rd National Vice-President
377 Bank Street
Ottawa, ON    K2P 1Y3
Fax: 613-563-7861
Email: jgrenier@cupw-sttp.org
You can also download this form on the CUPW website – www.cupw.ca
In Solidarity,
3rd National Vice-President