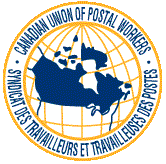 On behalf of the National Office, I would like to welcome the following CUPW members to Ottawa.
Alvaro de la Cruz – Royal City – Alternate Union Representative – Grievance
Ryan Spence – Scarborough – Alternate Union Representative – Education
Members were selected for various committees provided for under the CUPW Urban and RSMC collective agreements. They are:
Appendix "AA"

Pierrette Morin – Montréal
Terry MacDonald – Timmins
Vincent Voyer – Sherbrooke
RSMC Work Content and Workload Committee

Barb McMillan – Arnprior-Renfrew
Susan Wilson – Guelph
Éric Lévesque-Saumier – Outaouais-Québécois
Groups 3 & 4 Review Committee

Benoit Douville – Montréal
William Scott-McGarva – Hamilton
We would like to thank all CUPW members who applied and encourage them to continue their efforts to represent the interests of the Union and the membership.
Over the coming weeks, the new Committee members will be reaching out to the regional and local offices, introducing themselves and asking a series of questions relevant to both their work and to various aspects of internal mobilization. Please join me in welcoming them as they support the work of the Union.
In Solidarity,
1st National Vice-President