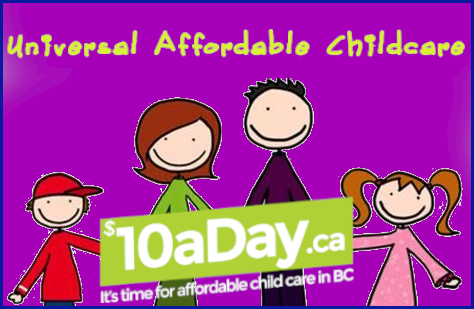 Friday September 2, 2020
"Get Canada Working Again with Child Care" Campaign
Having a hard time finding child care?
Having a hard time affording the high cost?
You are not alone?
The majority of Canadian parents (73%) cannot find or afford high quality child care.
It's time to change that.
The Federal Speech from the Throne set out a bold promise to provide substantial funding to provinces and territories to build robust systems of child care that Canadian families so badly need and on which a fair economic recovery depends. Child Care Now wants to ensure this promise is kept and included in the next federal budget.
Between now and the end of October, Child Care Now will undertake a "Virtual Lobby" of key Members of Parliament (MP's) – see the list below. They need parents willing to share their childcare stories to take part. It is important that MPs' hear first-hand about the child care needs of working families.
Child Care Now is asking endorsing organizations to identify members, who are constituents in as many of the identified ridings as possible, who would be willing to join a virtual meeting to talk about their child care needs.
Child Care Now will make sure that all constituents are briefed in advance, and that someone with good knowledge of childcare policy will join the call to assist in answering questions.
If you would like to take part please contact Child Care Now to provide your name, contact information, and the riding you live in to Chloe Waters chloe@ccnow.ca.
If you don't live in one of the identified ridings, that does not mean you can't add your voice. It is so important that all MP's hear from constituents about why childcare is important.
We hope you will join us in our fight for high quality, affordable, and inclusive childcare for all children and parents.
Read More